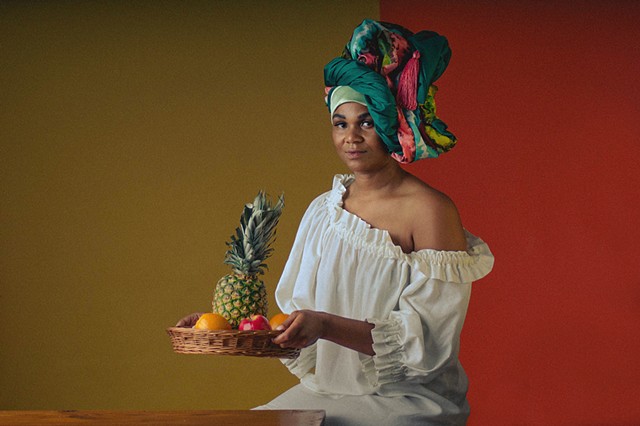 Maria Juana
Photography: Inkjet print on cotton paper with archival pigment.
28X40 inches (w/ wood frame)
2018


Some women had difficulty in their relationships with white European men, whereas others found considerable advantage. Any relationship where power is unequal as that between white men and women of color in the early Gulf ports was exploitative.
One such relationship involved Maria Juana, who petitioned the New Orleans court in 1776 for her freedom on the argument that she had been the concubine of her master Juan Suriray for many years and when she refused to continue their relationship after he married a prominent white woman, he abused her and deprived her of shoes and stockings, forcing her to wear rags. Maria preferred to spend time in jail rather than continue to be the concubine and slave of Juan.
This image is based on the only painting of a black woman in a turban during the 18th century by a Canadian artist, François Malépart de Beaucourt titled ''Portrait d'une femme Haitienne'', located in Quebec, Montreal at the Musée McCord.
Copyright Owner: Chesley Antoinette
Photo Credit: JD Moore
Stylist: Courtney Guy
Make-up: Steven Hill
Model: LaTasha Roach


Limited Edition Print.